New recommendation: -
www.unetickypivovar.cz
For more details click
here
A delightful new restaurant attached to its own winery and brewery (see "wine sold from barrels"
www.VinoUnetice.cz
on map below)

Another excellent new local restaurant is www.kopansky.cz
See also www.Detaillo.cz restaurant-spejchar.webnode.cz www.pizzasklipek.cz www.mlyn1999.cz www.unetickypivovar.cz
Local Pubs and Restaurants
There are a number of delightful pubs and restaurants within easy walking distance of the IdyllicPrague.com Cottages,
each with a memorable distinctive identity. We strongly recommend that you try out several of them!
For more details of the nearest local Pub to IdyllicPrague.com click here
Click on the pictures below for more details of each Pub/Restaurant. Click here for map showing pub locations.
Click here for a typical menu.
Please note, the pubs and restaurants are changing all the time. Our Guests experience many delightful discoveries
but can never be certain that any particular pub or restaurant is serving food. If the sun is shining in the mountains
or the snow is perfect in the mountains, a restaurant may take a sudden decision to shut for a week! Explore what
is available and let us know if you find something special!
To place a telephone order for meals to be delivered to your IdyllicPrague Cottage, click here
The descriptions below are listed in "left to right" order as they appear on the map above: -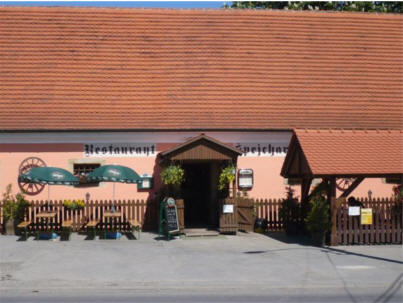 Špejchar Restaurant is an excellent "Old Hay Barn" restaurant. For directions see "BEYK" below.
Kladenská 18 Velké Přílepy 11:00 - 01:00 +420220930183 For more details, click here
Staropramen beer is now well known internationally. Špejchar Pub Restaurant serves Starobrno
which is a much loved historical Czech beer, similar to Staropramen but with a stronger flavour.
The food is good quality traditional Czech - for some ideas click here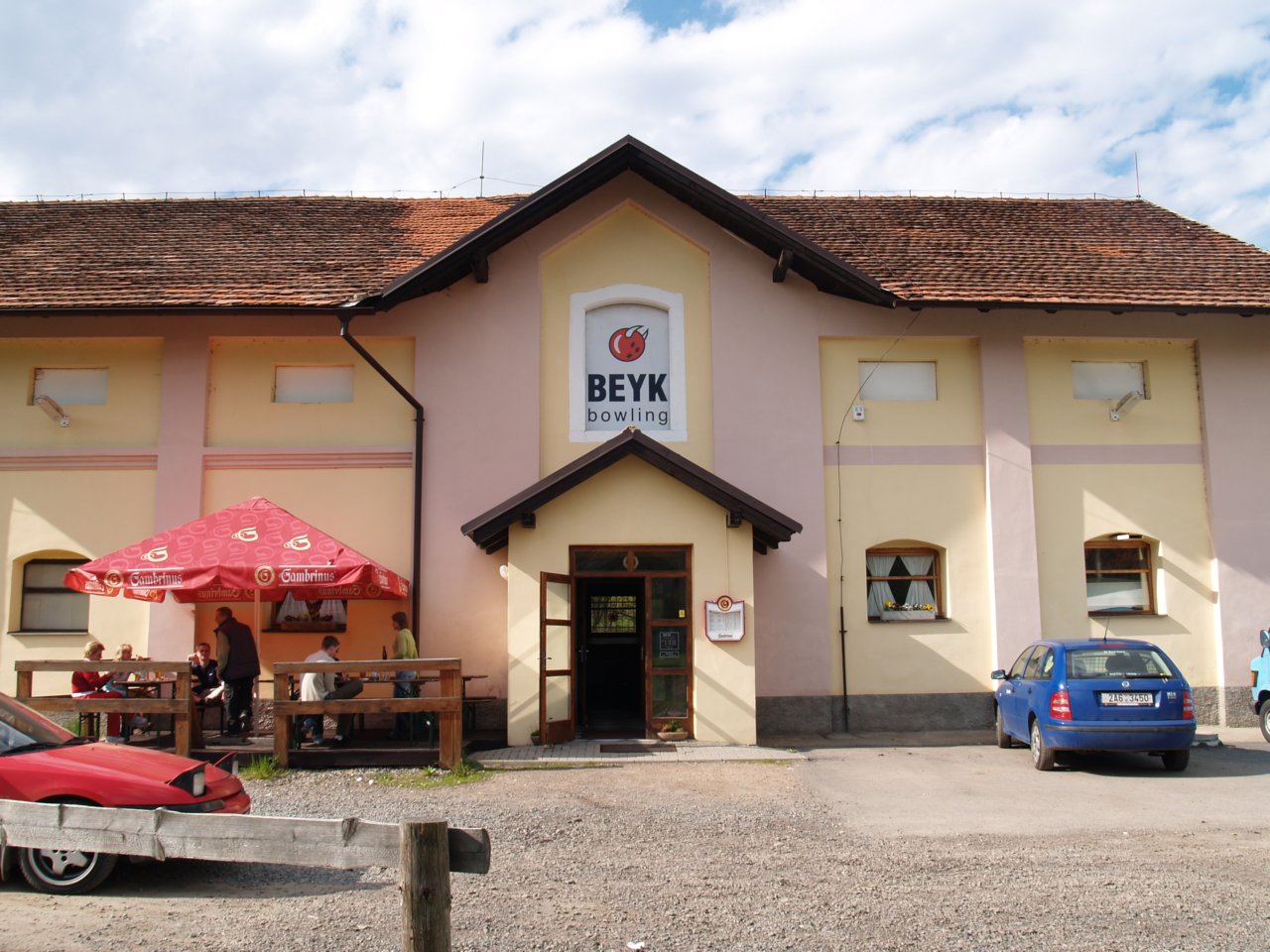 BEYK Bowling Kladenská 18 Velké Přílepy 15:00 – 01:00 +420220930489 www,BEYK.cz
For more details click here BEYK is nearly next door to Špejchar. Walk past Cherry Tree Cottage
and keep going straight on through the cherry orchard, following the lines of cherry trees. Continue up
to the top of the hill and down into the valley beyond. At the road junction at the bottom of the hill at
the centre of Velké Přílepy turn left into Kladenská. A grassy park forms the 316 & 350 bus terminus on
the right. BEYK and Špejchar are a little further along Kladenská on the right. For photos click here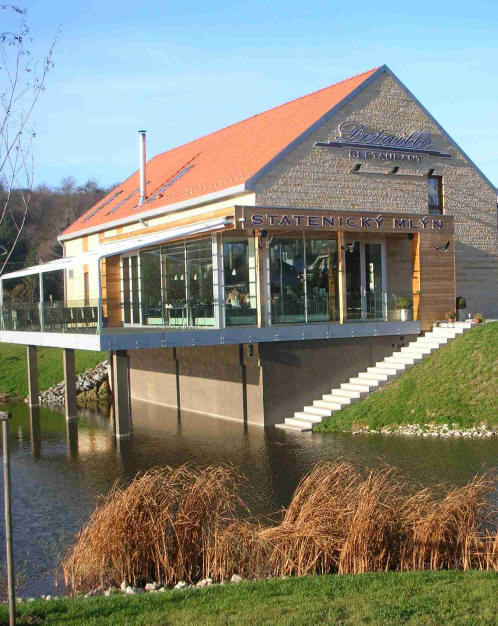 Detaillo – excellent upmarket restaurant with affordable prices, conveniently situated
within easy walking distance from IdyllicPrague.com Cottages. www.Detaillo.cz click here and here
For more details click here. International upmarket French/Italian/Czech menu plus pizza oven.
From IdyllicPrague.com walk past the Garden Centre (www.Trees.cz) cross the footbridge
over the stream and through the foot tunnel under the road. Keep walking straight on towards
Statenice and Detaillo is on your right. For photos of an IdyllicPrague Wedding in Detaillo, click here.

Bowling Modra Stoldola www.Bowling-ModraStodola.cz Spojovací ul Horoměřice 11:00 – 03:00 +420220970344
Popular purpose-built bowling hall in a relaxed setting ideal for all the family. Click here Click for Map.
Squash Horoměřice 220971815 Squash
Squash courts, tenis, sports facilities, massage, restaurant etc.
For more details, click here Click for Map.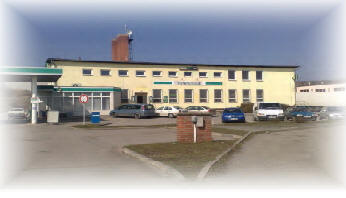 Cerny Vul Motorest Motel reliable Motel Restaurant menu 10:30 – 21:00 +420220970295
Favoured by lorry drivers but still produces excellent enjoyable food at low prices in a pleasant atmosphere.
http://www.ujerryho.cz/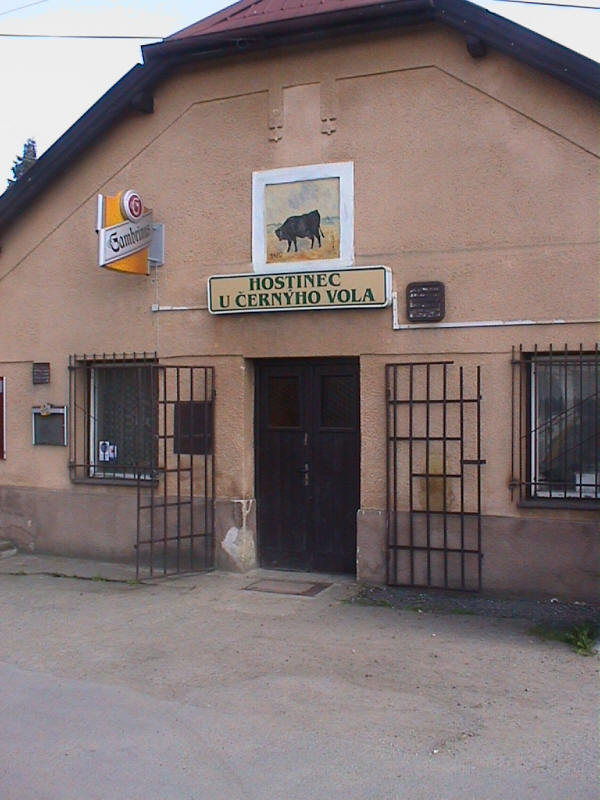 U Černýho Vola Pub Restaurant Hot pub snacks always available. From Garden Centre cross stream and
turn left at top of steps. If you ask pleasantly, the barmaid/landlady will often cook fresh food for you
even at unlikely hours. The food is mainly "hot beer snacks" but can be very tasty and can form a pleasing
meal at low low prices. Examples include smažený sýr deep fried hermelin or cheese, deep fried "spam",
sausages, onion, garlic, ham, devilled toast, soup. For more ideas click here and here +420312665276 Click for Map.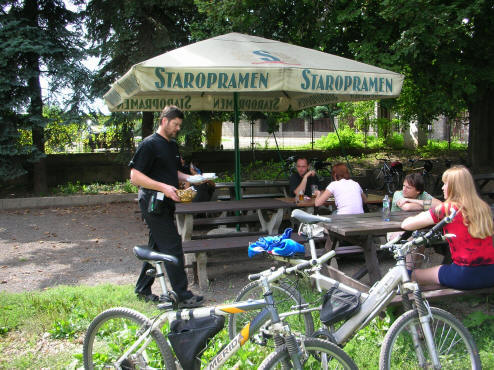 Ve Mlejne Pub Restaurant Family pub menu. Click for Map.
11:00 – 20:00 +420220971715. Click here for more details.
Ve Mlejne (The Mill) Pub Restaurant is immediately opposite Conifer Cottage across the cycle track.
From Cherry Tree Cottage walk down to the garden centre and turn left. Click here for directions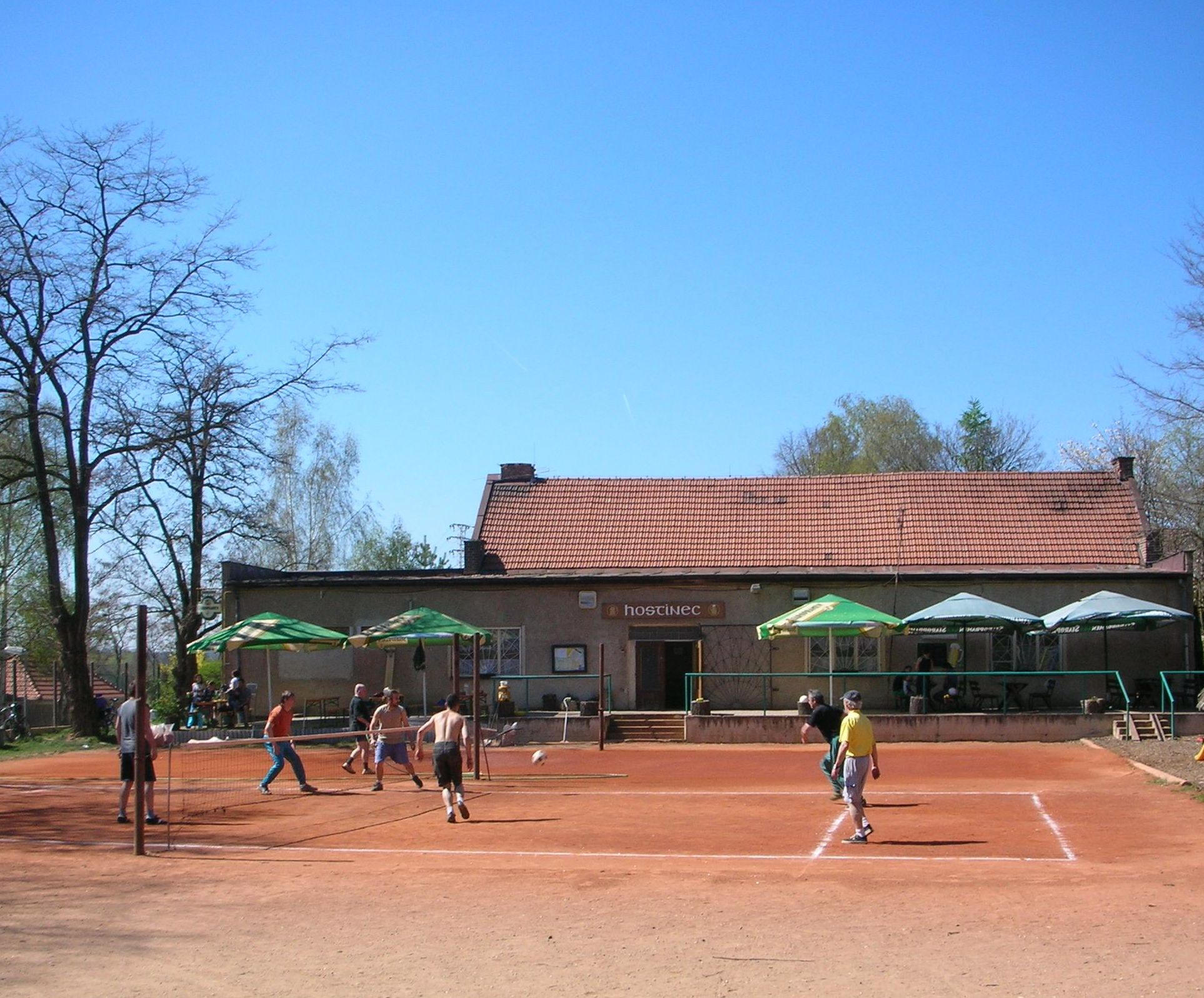 Únětice Pub Restaurant good hot menu served 11:00 – 19:00 Únětice is the delightful village to
East of IdyllicPrague.com. It has a fascinating history (click here) and is full of village life (click here)
The pub also serves as a village sports centre and even includes a small village theatre. Food and
drink are excellent - similar to Ve Mlejne, although the kitchen often closes disappointingly early
in the evening. Fascinating and charming village activities often surprise the visitor.
From IdyllicPrague.com walk along the cycle track past the garden centre towards Unetice.
After passing the second lake on the right turn left up a steep track and right at the top.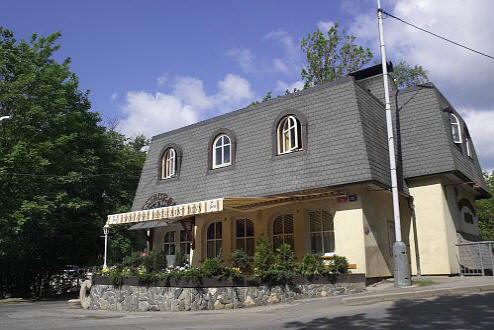 Restaurant Chorvatský Mlýn 10:00 – 21:00 +420220610760 Click here for details
Upmarket Croatian Seafood Restaurant in Jenerálka. From IdyllicPrague.com take bus 316 or 356
towards Prague Centre, and get off at Jenerálka. The Restaurant is ahead on the right.
Prices are a little higher than other restaurants on this page, but still reasonable taking into
account quality and service. Click for Map. One negative Guest comment click here.
V Raji Pub Restaurant Rybníčkem 54 Suchdol +420739863612 Click for Map.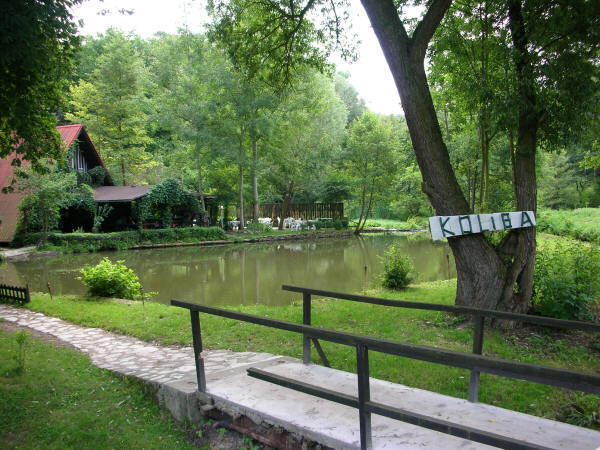 Koliba – excellent mill pond restaurant on Cycle Track 8100.
Croatian cuisine specialising in grilled meats plus traditional Czech dishes.
A Guest wrote "Without doubt the best meal (Superb T bone best ever tasted anywhere in world !)
although slightly dearer and also fantastic setting in the woods is the KOLIBA
which is about 20 mins by bike down cycle track to left as you leave cottage." Click for Map.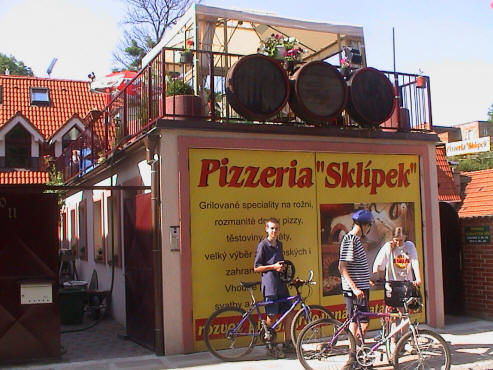 Pizzeria Sklípek is an excellent wine cellar restaurant with Czech menu plus wood furnace pizza oven.
Walk East on cycle track 8100 to Trojanův mlýn then take forest tracks SSE. Alternatively
walk East on cycle track 8100 until the stream is immediately adjacent to the right of the cycle track
and a foot bridge crosses the stream immediately to your right. Turn right over the bridge and
continue up the hill towards Suchdol. It is also possible to telephone for pizza delivery.
+420220920772 V údolí 40/11 Suchdol 11:00 – 22:00 Click here for details. Click for Map.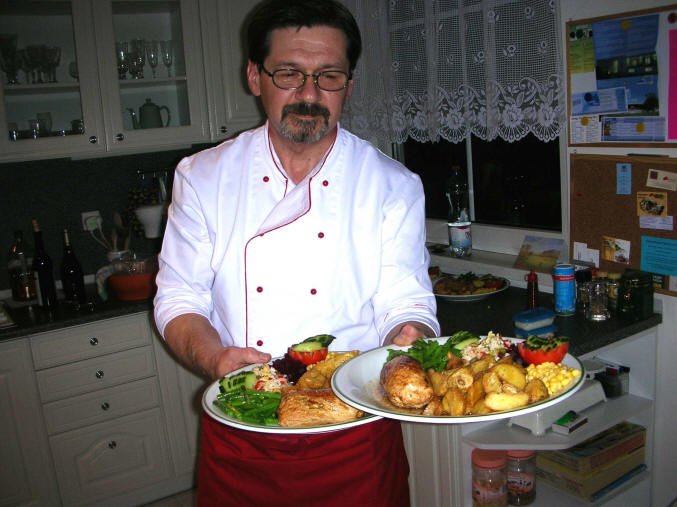 Rent-a-Chef. For more details click here
By arrangement Rent-a-Chef will bring a prepared dinner to
your Cottage which he will complete in your Cottage kitchen
(Not always available. Please ask.)
Click here to return to the top. Click here for a map showing pub and restaurant locations.
For local shopping click here. For local discos click here
Note, food and entertainment provided by these pubs and restaurants can change. However a number
of similar pubs are available nearby. For other local pubs and restaurants, click here and here and here.
For Pizza Delivery phone +420 220 920 772 or click here
Local Pub
The house is not situated on a
road,but is on "cycle track 8100".
(But do not worry, cars and taxis
can drive up to the house.)

Directly across the cycle track
from the house, is a rustic
pub/restaurant called "V Mlejne"
(The Mill).

The pub atmosphere is relaxed
and friendly. Prices are lower
than you could believe possible,
the beer is probably the best you
have ever tasted, and all food is
freshly cooked by a dedicated
professional chef.
The pub is a meeting point for the village, and you will quickly make friends with
all the regulars. For an indication of the restaurant menu, click here.
For local shopping click here.
Note, food and entertainment provided by the pub can change. However a number
of similar pubs are available nearby. For other local pubs and restaurants, click here and here.
For Pizza Delivery phone +420 220 920 772 or click here
[ Home ] [ Cottages ] [ Photos ] [ Guest Comments ] [ Travel ] [ City Tips ] [ Exploring the Countryside ]
[ Local Pubs ] [ Wheelchairs ] [Weddings] [ Currency Converter ] [ Book Now! ] [ Contact Us ]
[ Home ] [ Up ] [ Shopping ] [ Local Pubs ] [ Photos ] [ Currency Converter ] [ Guest Comments ] [ Weddings ] [ Conferences ] [ Rent-a-Chef ] [ Exploring the Countryside ] [ Book Now! ] [ Flights ] [ Contact Us ] [ Travel ] [ City Tips ] [ Wheelchairs Welcome ] [ Cottages ]